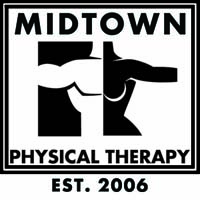 What is Telehealth?
Telehealth is a one on one virtual visit with a healthcare provider. At Midtown Physical Therapy we use an easy to access, HIPPA compliant Zoom platform to conduct the visits. We strive to offer the same quality of care that you would receive by coming into the clinic for an in-person visit.
Is telehealth covered by insurance?
Most insurances including Medicare currently cover telehealth visits for physical therapy. We can confirm this for you by contacting our front desk.
What to expect?
Expect the same quality of care and attention that you would receive at in-person visits at Midtown Physical Therapy. Our therapists will guide you in an individualized program to address your specific goals. This could include strength exercises, instruction in flexibility exercises/stretches, balance activities, posture and body mechanics education, and suggestions to increase safety and ease of movement.
What will you need?
You will need a computer, laptop, tablet, or smartphone with access to a camera, microphone, and speakers.
Dress in comfortable clothing that is easy to move in. If there is a specific body part that you want the therapist to evaluate, try to make sure that area is easily accessible.
Most sessions require little to no equipment but your therapist will let you know if you need to bring additional equipment to the session (bands, weights, foam roller, exercise ball, etc). It is a good idea to have a sturdy chair nearby for some exercises.
Set up in a room with a reliable internet connection and in an area that is well lit so your therapist can easily see you.
If there is a specific movement that you want your therapist to observe (for example, reaching into a cupboard), be ready to position your device so the therapist can observe you performing the activity.
Step by Step Guide to Connecting to a virtual visit with your Physical Therapist
Make sure you provide your email address when scheduling your first visit. We will send an email with a link to the virtual visit on the day of your appointment.
If you do not have the Zoom application on your device, install it before your appointment. If you are not sure how to do this, there is a link on the email that you receive from Midtown Physical Therapy.
Log onto your email account and click on the email from Midtown Physical Therapy. Click on the link in the email.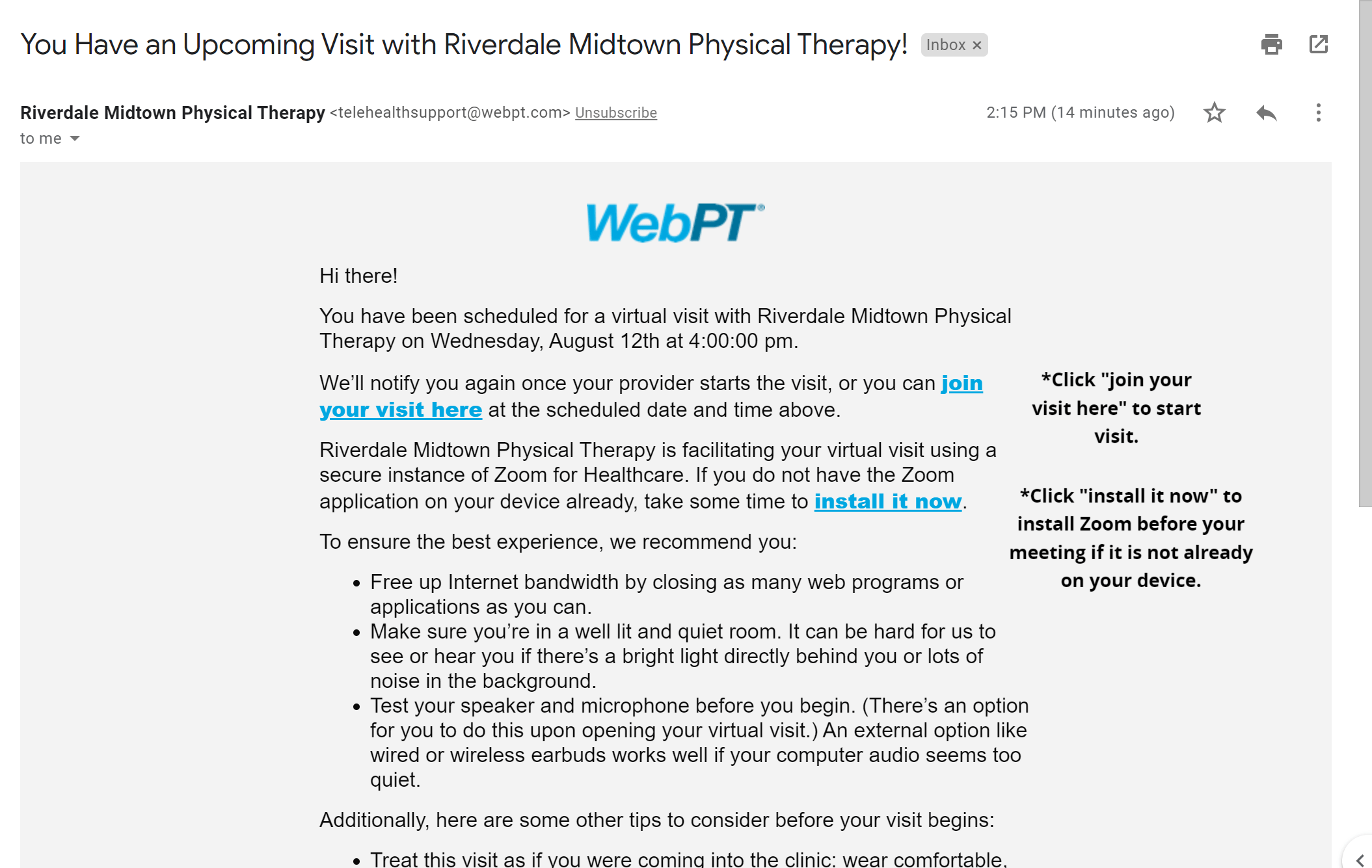 4.  You will be brought into a virtual waiting room and your therapist will let you in.
5.  Once your session has started you will be able to see and hear yourself and the therapist. Make sure you turn up your speakers if needed to hear the therapist.
6.  If there are specific exercises that your therapist wants you to perform at home they will email you the exercises. As always, feel free to reach out to your therapist if you have any questions.
Interested in a Telehealth Visit?
To schedule a visit contact us at 347-692-8185 or frontdesk@midtownpt.com. We will verify your insurance and let you know your physical therapy benefits. You will be scheduled with one of our therapists on a day and time that is convenient for you. On the day of your appointment we will send you an email with a link to click on to connect to the virtual visit through your phone, tablet, or computer. You will be virtually connected (both audio and visual) to your therapist.
We look forward to helping you achieve your wellness goals.
TeaMPT: Rachel, Julie, Christine, Yoshi, Liz, Heidi, Kasandra, Eve, and Toni