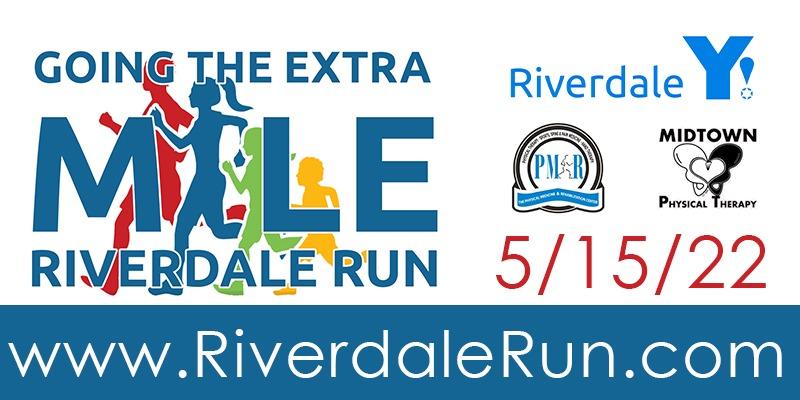 Join MPT and Riverdale Y for the Annual Riverdale Run and Fun Day!
Join us Sunday, May 15th for a fun day for the whole family that supports a great cause! TeaMPT will be "Going the Extra Mile" and participating in the run as a team. We hope to see you there!
Date: Sunday, May 15, 2022
Location: 5625 Arlington Avenue, Bronx, NY
Start Time: Doors open at 8:30 AM
Run Distance: One Mile
First heat: 9:00 AM
Other heats continue every 10-15 minutes including an untimed family heat for children and pets on leash.
Fun and Volunteering events: 9:00 AM to Noon.
The Riverdale Y will stay open for guests to enjoy the facilities at no charge until 4:00 PM!
Registration Fees (covers running the race and participating in the Fun and Volunteer activities)
General Population: $25
Seniors (65+): $20
Children (6-11): $10
Children under 5: FREE
Proceeds from the registration fee will go towards funding for the Riverdale Y Center for Social Responsibility, providing programs for children, seniors, and others in the community who need support.
All registrants over age 5 will receive a free t-shirt commemorating the event.
Food and drinks will be available!
Learn more about about the events below!
Register for Riverdale Run and Fun Day Below!
Worried about an ache or pain keeping you from race day? Want to set a personal best?

TeaMPT can help you prepare for race day!
Contact us below to schedule a one-on-one appointment with one of our therapists. Your therapist will provide an individualized assessment and develop a customized treatment plan to help you attain your goals. We offer in-person visits at our offices in Riverdale and the Upper West Side, concierge in-home sessions, and virtual visits over Telehealth to cater to all of your needs.
We look forward to helping you achieve your wellness goals.
TeaMPT: Rachel, Julie, Christine, Yoshi, Liz, Karen, Mo, Heidi, Kasandra, Miko, Biacca, and Toni